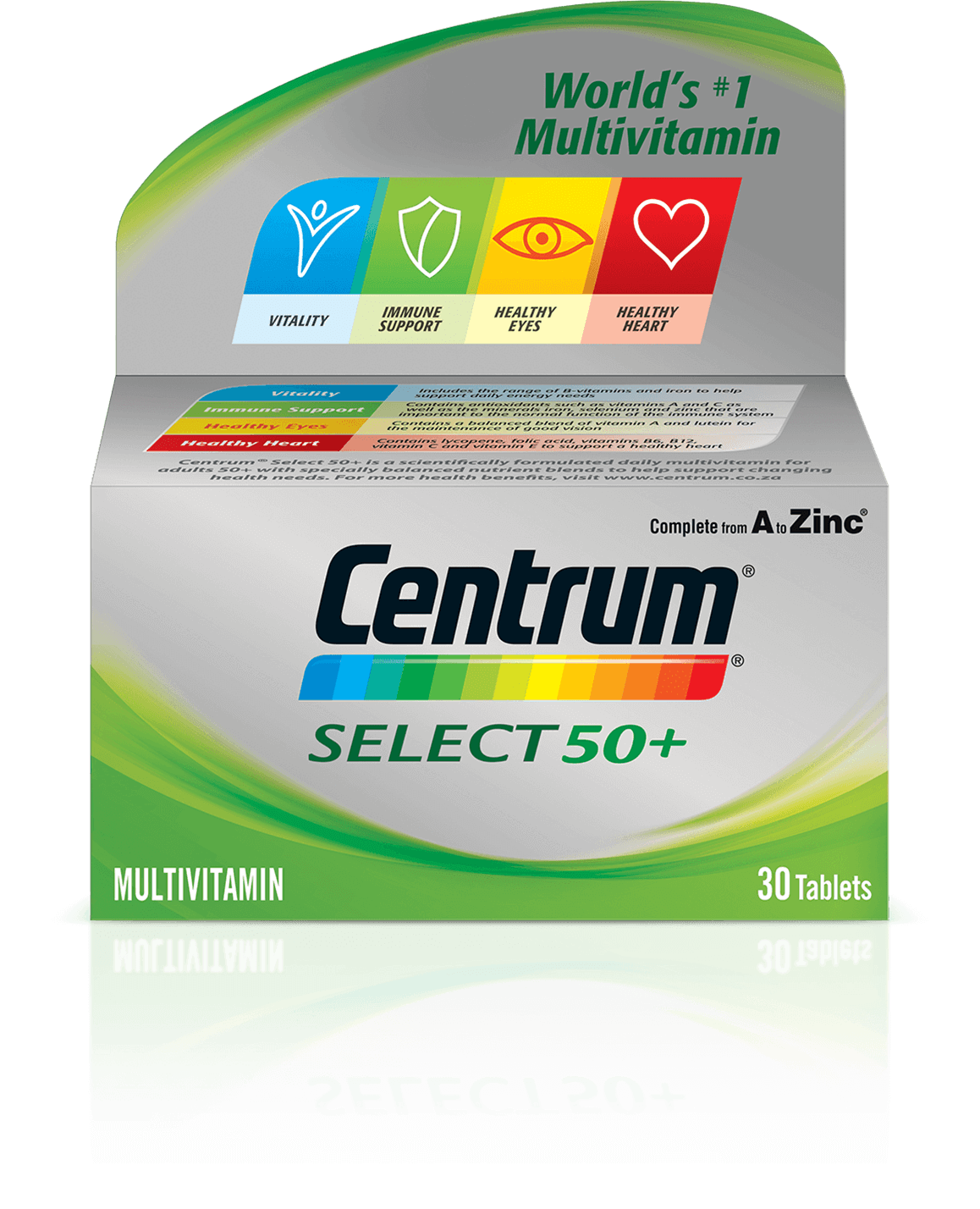 Multivitamin / multimineral supplement for adults over 50 years
Centrum Select 50+[1] is a scientifically formulated, age-adjusted dietary supplement for adults aged 50 years and older to help support health and well-being. As we get older, our nutritional needs change. With Centrum Select 50+ you benefit from what science is discovering about how vitamins and minerals help to unlock energy, support immunity and maintain health.
Vitamins, minerals and trace elements are involved in many of the metabolic processes in the body and in so doing, contribute to physical and mental wellness. It may be difficult to follow a balanced diet with the required vitamins and minerals at the required levels.
Lifestyle choices such as stress, excessive exercise, alcohol consumption, smoking and even taking certain medication, all impact on nutrient levels. The body cannot produce most vitamins, minerals and trace elements, but is dependent on a regular supply in the diet. An adequate supply of these nutrients is important for well-being and good health.
Benefits of taking Centrum Select 50+
Daily supplementation with Centrum Select 50+ can support the following health benefits:
Vitality - Includes the range of B-vitamins and iron to help support daily energy needs
Immune support - Contains antioxidants such as vitamins A and C as well as the minerals iron, selenium and zinc that are important to the normal function of the immune system
Healthy eyes - Contains a balanced blend of vitamin A and lutein for the maintenance of good vision
Heart health - Contains lycopene, folic acid, vitamins B6, B12, vitamin C and vitamin E to support a healthy heart
What Centrum Select 50+ contains:
Centrum Select 50+ is a scientifically formulated daily multivitamin for adults 50+ with specially balanced nutrient blends to support changing health needs.
Each Centrum Select 50+ tablet contains the following ingredients:
Nutritional information per Centrum Select 50+ tablet
Vitamin B12 (Cyanocobalamin)
Vitamin C (Ascorbic acid)
Adults: Take 1 tablet daily. Take the tablet with sufficient quantity of liquid (e.g. a glass of water) with meals.
Take special care with Centrum Select 50+
Exceeding the daily dose is not recommended. Nutritional supplements cannot replace a balanced diet.
Centrum Select 50+ is available in 30s, 60s, and 90s pack sizes.
Available at leading retailers and pharmacies.
Sugar-free. Lactose-free. GMO-free.
Potential allergens:
Sulphur dioxide at a concentration of not more than 100 ppm.
Minerals added as:
Calcium carbonate, potassium chloride, ferrous fumarate, magnesium oxide, manganese sulphate monohydrate, zinc oxide, chromic chloride hexahydrate, cupric sulphate anhydrous, sodium molybdate and sodium selenate.

Other ingredients are:
Calcium phosphate dibasic, croscarmellose, crospovidone, gelatin (bovine), lanolin, magnesium stearate, microcrystalline cellulose, sodium, stearic acid, syloid (silicon dioxide).
CLICK HERE TO DOWNLOAD THE PATIENT INFORMATION LEAFLET.
[1]Centrum Select 50+ Patient Information Leaflet